Top Honoree: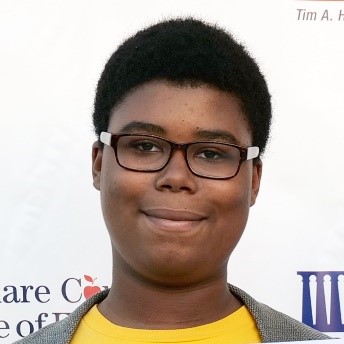 Toyyon Swafford
Pixley Middle School, Pixley
nominated by Deborah McCaskill

Toyyon Swafford is an amazing young man for many different reasons. First, he is a stellar scholar and always puts his best effort forward. He is conscientious about his schoolwork, making certain that he does whatever it takes to be thorough. Toyyon never does the bare minimum, but rather strives to improve his skills and knowledge with every single task and assignment. This demonstrates a high degree of respect for education. Toyyon states, "I want to do better than I did the year before because my education will help me to decide where I will be in the future." This is especially important because Toyyon has faced some personal struggles in his young life that make him more aware of the need to help others. He wants to be a chef and is very intrigued by the food industry. When he talks about accomplishing this goal, it is not for fame or notoriety, but instead he desires to leverage his skills and opportunities to help feed the homeless and those in need of nutritious food. He sees a need in our own community, and along with his family, has met that need with charitable donations and kindness. He is following in the footsteps of his mother who has been a longstanding member of our community and a very benevolent person. Toyyon is articulate and very focused and to think that people in need will continue to be on his personal radar gives hope that those most at risk will be met with his compassion and motivation. Finally, his personal standards of conduct with others represents the high level of respect he gives to all other areas of his life. He is able to meet a variety of situations with calmness and reflection, always thinking first about what is appropriate in the moment. He is forgiving toward and accepting of others and puts a lot of value in his friendships, understanding that to have a friend is to be a friend first. I am very impressed with this young man's focus, demeanor, and attitude and he definitely is deserving of this recognition. He represents his family, school and community with integrity and more importantly, with the heart of a giant. To say this young man, with his light shining bright to the future, is a Pixley Kid is an honor and he will definitely continue to grow to be a future emissary of good will and service to all.
Read the Visalia Times-Delta/Tulare Advance-Register article about Toyyon.

Finalists: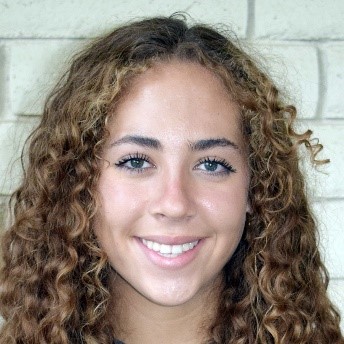 Nalani Ginn
Mission Oak High School, Tulare
nominated by Oddie Lambert, Matt Jones, Doug Jones, Mike Hazelwood, Diane Reis

Nalani is always prepared for band rehearsals, performances, and fundraisers. It is a pleasure to have such a conscientious student in our program. As a teammate, Nalani genuinely cares for her teammates as people and as players. Nalani is blessed with so much intelligence, skills, and talents yet is extremely humble, kind, giving, and caring. She will no doubt thrive in whatever career or field she chooses, but what's even more apparent is that many, many people will be rooting for her. She never brings attention to herself yet works so efficiently that even the spectacular looks easy. For example, she is a brilliant photographer in our journalism class. At a district-wide staff meeting before the school year – with all staff members from all schools present in one location – one of her photos was projected to the audience. There was an audible appreciation of the photo, which showed Link Crew leaders welcoming new freshmen. Seeing that photo really sent the audience into a positive state and just illustrates the magic that defines Nalani's work.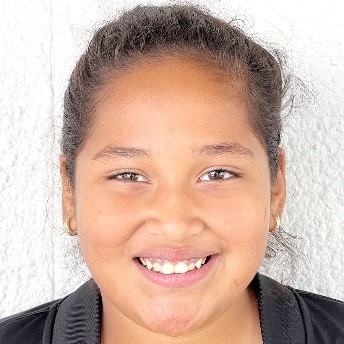 Joselyn Juarez
Ducor Union School, Ducor
nominated by Louis Smith, Steven McCurry, Infinity Dignam, Lupita Flores

Joselyn is always in class being a leader and helping others by staying on task. Our class had an assignment, and she submitted the following, "I try to never give up and keep trying until I get it done. When somebody doesn't want to try, I am going to say to them - never give up and keep trying. I think that P.E. helps a lot because it teaches me to never give up. I think everyone should be grateful for what you give us Mr. Smith. Thank you for what you do." Joselyn recognizes the importance of having the right school culture. Not only does this student complete her work with a positive attitude, but she follows all of our school "Valores" which are the Pillars of Character. Joselyn is also a proud member of Kid Power Student Body and, so far, has helped complete one school improvement project since the beginning of the school year. She has also written a list of projects that she would like to work on, such as improving the school garden and decorating different parts of the school. She also would like to improve the grounds at the school because she knows that many parents and students use the school beyond the school day. Joselyn is also a kindhearted girl and she is always willing to help her classmates and her teachers. She is a 'go to' for students when they need help in getting any activity done. Academically strong and independent, and a leader in student body as well as the volleyball team, Joselyn has amazing responsibility and is a leader beyond her years. The sky's the limit for Joselyn.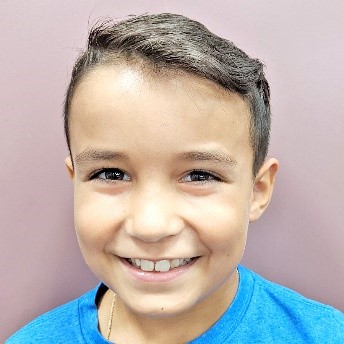 Andre Lara
Castle Rock Elementary, Woodlake
nominated by Kelly Quinn

Andre deserves to be recognized for his great contributions to his home, class, school, and community. He is an upstanding young man who exhibits every Pillar of Character in all parts of his life. At home, Andre helps his family by working hard, pruning trees, harvesting crops, and feeding and caring for the animals. On his sports teams, Andre can be counted on to cheer on his teammates, offer coaching tips and encouragement, and exhibit sportsmanship towards opposing teams whether his team wins or loses. In class and on the playground, Andre works and plays hard, follows the rules, and volunteers to help others. He is the type of upstanding citizen we all hope our students will become. Andre and others like him truly give us hope for our future. For these reasons and so many more, I nominate Andre Lara for recognition because Andre's Character Counts!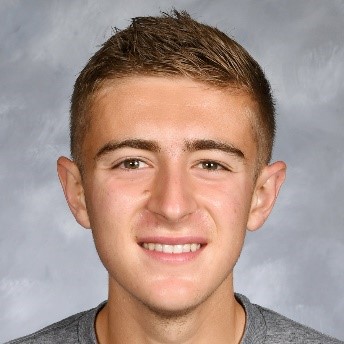 Carter Mendes
Tulare Western High School, Tulare
nominated by Jordan Perry

Carter is the kid every teacher/coach dreams about. I have worked with him in both aspects and I have never had a student athlete more apt to success. This is my third year as Carter's cross country/track coach at Tulare Western. It was clear from his freshman year that Carter had some talent in the sport, but most didn't see the painstaking attention he had to give to his body to achieve this. Carter had many problems in his running form which caused him to be very injury prone. I would often tell him that he would have to be patient on how much running he could do and that it would pay off in the future. Carter would put in and still does, hours of his own time working on his strength and mobility. Most athletes finish their run and they are done for the day, Carter always asks for more. There are times I have to tell him he needs to take more time to have fun and be a kid. He is well respected among his peers and has been chosen as team captain for varsity as a sophomore and for this current season. Last year, he led the squad to break our league rival, Monache's, 10-year undefeated streak and bring the title to our school. This season he is training healthy and is one of the top runners in the whole section. Our boys are currently ranked #1 in the Valley for Division Three and first in the league. This achievement has everything to do with the example he has set for what it takes to be a great runner.