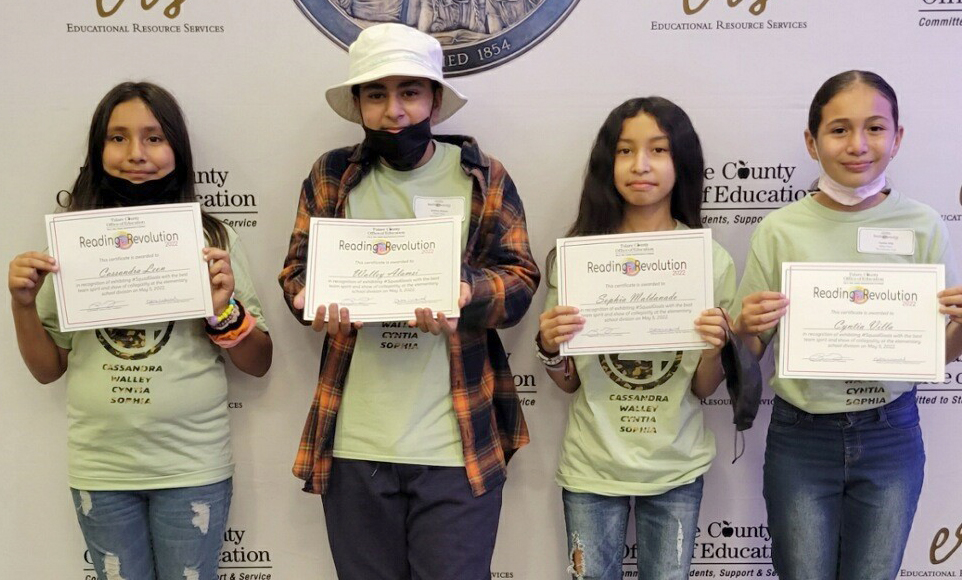 At the annual Reading Revolution event, Pixley Elementary students Cassandra Leon, Walley Alamsi, Sophia Maldonado, and Cynthia Villa stepped into the room where they would be asked to perform a scene from one of the books they were assigned to read. For the competition, "Convincing Characters," the judges explained that the students were to draw two popsicle sticks from the six laid on the table. On the underside of the sticks were the names of books from their reading list. The students were then to tell judges which of the two books they would be presenting.
Looking at their choices, one student whispered, "Worst nightmare ever." The students huddled in a corner of the room, strategizing. After two minutes, the students were asked to begin their presentation.
It was clear to the judges that the team was struggling. About a minute into their presentation, Sophia raised her hand. "The reason they're not saying anything is because we didn't read that book," she said about the chosen novel.
Judges took note of their courage to admit the truth and commended them for it. Judges also made notes on their score sheets, which were turned in to the event coordinators. For their honesty, the event coordinators gave the team the new Squad Goal Award, which was created for those who exhibited extraordinary sportsmanship.
"Our students were so proud to receive the Squad Goal Award yesterday," said Pixley teacher Dena Deatherage. "We talked about it in the car on the ride back to school and how it's better to be honored for your character than any other type of award. They were just so happy and kept talking about how it was the best day ever."
Great job, students!