TCOE's 38th annual Poetry & Prose On-Stage event began Tuesday with a record-breaking 1,500 students from 100 Tulare County schools slated to participate in the seven-day oral interpretation program. The event is scheduled for March 14-17 and March 21-23 at the TCOE administration building. The public is welcome to attend the event.
Poetry & Prose was created to bolster students' confidence, creativity, performance, and language skills. Students, grades K-8, prepare poems or dramatic readings and perform either individually or in small groups. The poems can be from poets, such as popular children's writers Shel Silverstein or Jack Prelutsky, or written by the students themselves. Some students also recite their selections in Spanish.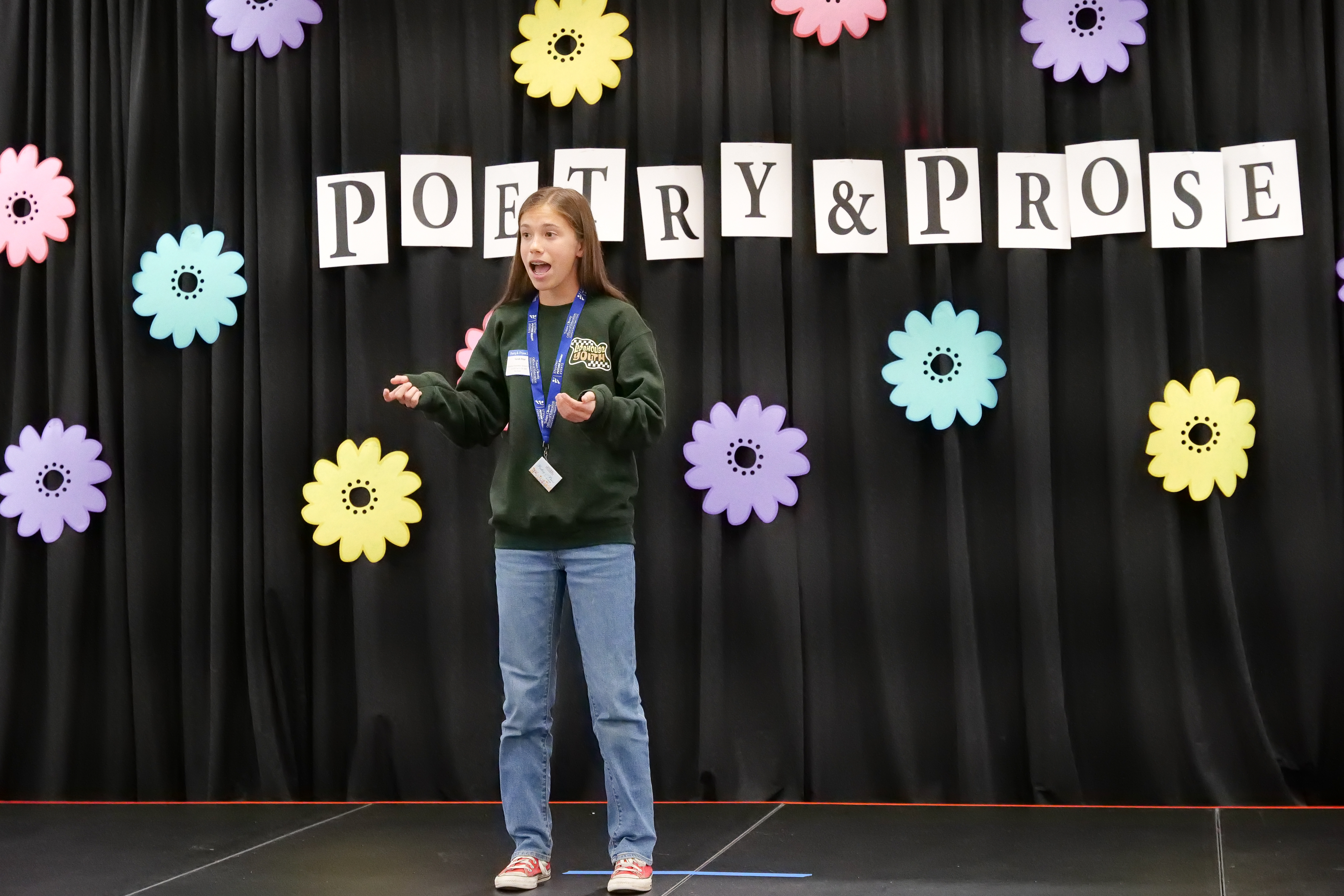 Judges provide positive and instructional critiques as they evaluate each performance. There are 10 areas which students are judged on, which include posture and presence, meaningful gestures, eye contact, sincerity and poise, and more. The judges' sheets are later given to teachers so they can be reviewed with their students. Personalized achievement certificates honoring the students' performances are also handed out.
This year was Christopher Castro's first year participating in Poetry & Prose. He was chosen as one of the students that performed in front of the entire crowd at the end of his session. The eighth-grader from Los Tules Middle School in Tulare performed a poem titled What Is It That I Search For written by Tupac Shakur.
"The reason I chose one of his poems, was because I like poetry," Castro said. "It inspires me to listen to more music and do what I love. I found out that he (wrote) poems so then I chose to do one of his poems."
In his final performance, Castro said he felt a lot more comfortable performing than he had before.
"In the beginning, I really was nervous," he said. "But now that I'm more comfortable talking, I really don't mind talking. I'm more comfortable. I feel more open."
Castro added that he writes his own poems and hopes to perform in other poetry events like TCOE's Poetry Live!
"I really liked it," Castro said.
For more information about Poetry & Prose, visit tcoe.org/pnp.
For more information about Poetry Live!, visit tcoe.org/PoetryLive.
Photos above:
~ Christopher Castro, a student from Los Tules Middle School, performed What Is It That I Search For by Tupac Shakur at Poetry & Prose on Tuesday.
~ Sarah Diaz from Columbine Elementary School in Delano also performed a poem for the audience at the end of a session on Tuesday.